The following print and open access books have been added to the collection in the last month: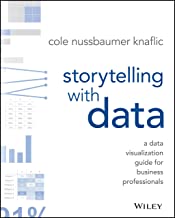 "Storytelling with data: a data visualization guide for business professionals" by Cole Nussbaumer Knaflic teaches the fundamentals of data visualization and explains how to communicate effectively with data. In this book the reader will discover the power of storytelling and the way to make data a pivotal point in your story. The lessons are grounded in theory, but include real-world case studies and cover the following topics:
Understand the importance of context and audience
Determine the appropriate type of graph for your situation
Recognize and eliminate the clutter clouding your information
Direct your audience's attention to the most important parts of your data
Think like a designer and utilize concepts of design in data visualization
Leverage the power of storytelling to help your message resonate with your audience
By turning your data into high impact visual stories that stick with your audience and go beyond conventional charts, you will create new ways of using data to get your message across.
To borrow or place a hold on this book go to the following url:
Koha online catalog › Details for: Storytelling with data : (interleaf.ie)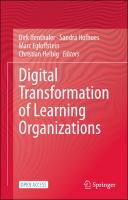 This edited volume entitled "Digital Transformation of Learning Organizations", provides insight into how learning organizations change through the adoption of digital technologies. Opportunities and challenges for the individual as well as organizations are addressed. The themes explored are 1. Current research exploring the theoretical underpinnings of digital transformation of organizations. 2. Insights into available digital technologies as well as organizational requirements for technology adoption. 3. Issues and challenges for designing and implementing digital transformation in learning organizations. 4. Case studies, empirical research findings, and examples from organizations which successfully adopted digital workplace learning.
Chapters include : 'Organizational Learning and Digital Transformation: A Theoretical Framework', 'Learning Organizations in the Age of Smart Machines', 'Individual Workplace Learning with Digital Technologies', 'Competencies, Culture and Change: A Model for Digital Transformation' and 'Resistance to Digital Change'.
Koha online catalog › Details for: Digital Transformation of Learning Organizations / (interleaf.ie)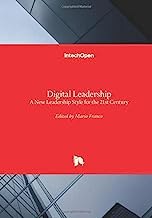 "Digital Leadership, as a new style of leadership for the 21st Century", has gained a lot of attention recently. This book, edited by Mario Franco, is a collection of papers exploring leadership from different perspectives, and the challenges of the twenty first century. The authors attempt to clarify the main challenges of leadership in the digital realm and examine how digital leaders cultivate opportunities and address risks in a fast moving digital marketplace.
Theoretical and practical applications about digital leadership are presented, including a virtual leader-follower paradigm and a team leadership development model. The final chapter includes three case studies from around the world, including the risks and benefits of applying a digital leadership style in South African universities.
Koha › Catalog › Details for Digital Leadership / (interleaf.ie)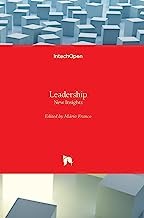 "Leadership New Insights"
Leadership responsibility can enable organizations to achieve a successful future. Understanding leadership is very important for an organization as well as the environment around it since organizations are part of a social, economic and environmental context where actions have effects and impacts. This book, also edited by Mario Franco, investigates the following four themes: 1. Leadership Guided By Theoretical Perspectives, 2. Leadership and Innovation and SME's, 3. Leadership in Environment and Workplace Contexts and 4. Resilience and Sustainable Leadership.
Topics discussed include an analysis of the post-pandemic work environment and proposes a revised method of human connection that acknowledges unique differences in online connections, and how a transformative style of leadership is required as organizations need emotionally intelligent leaders that harnesses individual and collective behaviour to improve the quality of work. The book also explores how the leaders and leadership paradigms have been disrupted and why the old model of fear and control does not work.
Koha › Catalog › Details for Leadership (interleaf.ie)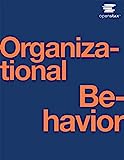 This online text entitled "Organizational Behaviour" includes many contributory authors including J.Stewart Black from INSEAD, David S.Bright from Wright State University and Donald G. Gardner from University of Colorado-Colorado Springs. The book covers similar topics as an introductory course in Organizational Behavior.
The theory, concepts, and applications of organizational behaviour are covered with particular emphasis on the impact that individuals and groups can have on organizational performance and culture. Other topics include entrepreneurial thinking, managing change, using tools/technology, understanding and managing work teams, perception and managerial decision making, responsible management as well as a chapter on social media and communication.