There is a new version of RefWorks. You are free to give it a go! Consider this a trial to begin with. Expect the legacy version of RefWorks to eventually be replaced with this version. Follow the steps below to get started. Contact the library if you have any questions or issues.
Accessing the new version of RefWorks
Make sure you are logged into the library before you begin.
You can go here to access RefWorks: https://refworks.proquest.com/login/.
Alternatively, if you attempt an export and are presented with a choice between legacy RefWorks or the new version of RefWorks select the new one, i.e. the one with the blue square logo: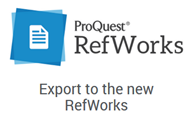 Logging in
Your username and password will not work in the empty fields here. You need to use the institutional login. Search for: Irish Management Institute.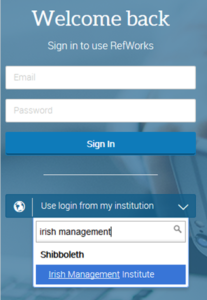 You might see the same screen at this point that you see when logging into the library or Moodle, i.e. your institutional login. Log in as you normally would.
If your login is successful you will see the landing page for the new version of RefWorks.
Import your references from the legacy version
The new version of RefWorks will be empty of references to begin with. One of the first things you will want to do is import your references from the legacy version of RefWorks if you have been using it: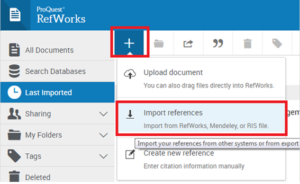 Where it says 'Import from another reference manager' select RefWorks as your target and authorise the new version to bring the references that you have built up across from the legacy version.
If you see another login screen here you might need to specify institutional credentials again, i.e. Irish Management Institute, in order to authorise the new version to access the old version.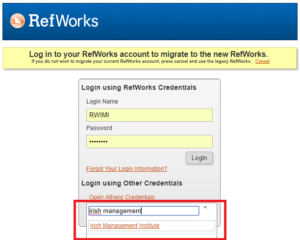 It will tell you if it has been successful.
This should not be necessary for most people but an alternative to the last step is to manually export your references from the legacy version of RefWorks (either the RIS or BibTeX formats will do) and then, in the new version, after you select 'Import references', drag and drop the RIS or BibTeX file that you just created. 
Settings
At this point you might want to review your settings by clicking on Settings in the drop-down menu under your name in the top right corner.
You can turn off notifications if you choose to. You can also configure which version of RefWorks your database exports target from now on. If you are happy to continue using the new version select it.
Let's talk about new features!
This version of RefWorks has other new features that you can explore but one of the handiest new features is the ability to import book information. Click on the Search Databases option on the left. The best databases to search are probably the Library of Congress and the British Library, two of the biggest libraries in the world. You can search for a book by its title or its ISBN and then import the information about it into RefWorks:

The inverted comma symbol " is where to go now to create your bibliography. Find / select Harvard (IMI) as out output style, much in the same way that you did before: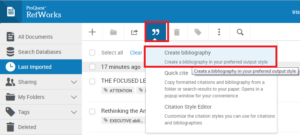 Look under Tools to explore other features that might be of use to you, including add-ons to Word and Google Docs and a Save to RefWorks add-on for your web browser that allows you to add references and full-text to RefWorks from any website.