New features have been activated in Summon, the library's main search interface.
1. Glanceability
Some search results will display with an Original Research label.

Citation trails allow you to explore a topic and collect material by following a chain of articles that cite each other. They can be beneficial in identifying further reading in your area of interest. Citation trails work in two directions:
Cites – Articles that this article cites.
Cited by – Articles that cite this article.

Some citation trails may include material that library does not stock or subscribe to. Generally speaking, if a journal article does not include a link to Full Text Online it is unlikely to be part of the library's subscriptions but we may be able to source it.
You can always suggest books for purchase or ask the library to try to source an article for you, including as an inter-library loan.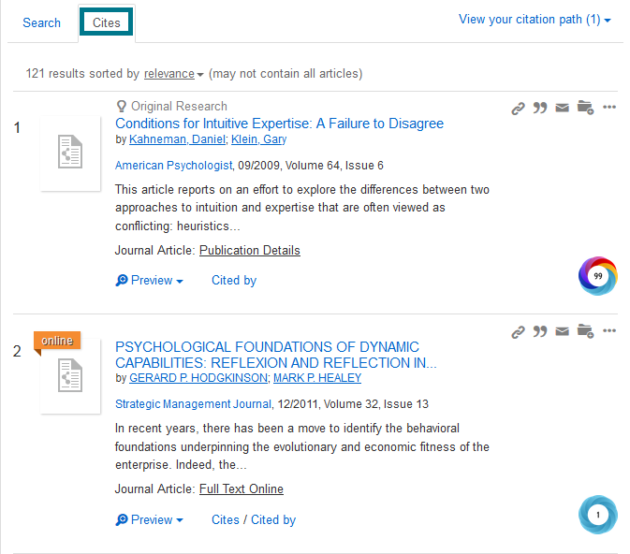 3. Get an Open Access Version
Summon will display direct links to PDFs or full text from Unpaywall, where appropriate. This feature increases the volume and ease to access to open access material from outside of the library's paid subscriptions.

Open access is an alternative publishing model to paid subscriptions in which material is distributed online, free of cost or other access barriers. All forms of published scholarly output can be open access.
Unpaywall harvests content directly from over 50,000 journals and open-access repositories from all over the world. These repositories are run by universities, governments and scholarly societies. Unpaywall also harvests open content hosted by publishers.
Note: The Get Open Access Version link might appear where no standard Full Text Online link is present. It might also appear where a full text version is available. In some cases, the open access version might be a draft or preprint that precedes the finalised peer reviewed version of an article that is formally published in a scholarly journal, e.g. the open access link in the article pictured above directs you to a preprint in a repository at the University of Warwick whereas the Full Text Online link directs you the published article in The Leadership Quarterly.
Photo by Marten Newhall on Unsplash