Accessing RefWorks
You can access RefWorks directly here: https://refworks.proquest.com/login/
You are far more likely, in practice, to launch RefWorks when you want to export a reference after finding it in a search. In Summon you need to click on the set of 3 dots and select Export to RefWorks: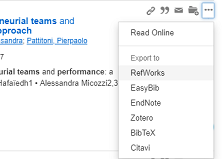 Logging In
You always log in from your institution, i,e. Irish Management Institute. Your personal logins will never work in the username and password fields: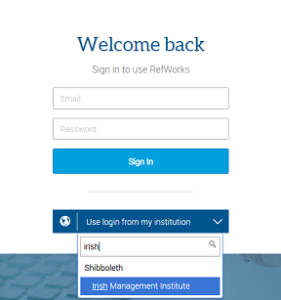 Advantages of RefWorks
RefWorks is a web-based citation manager designed to help manage citations and format bibliographies. It makes the process of storing and managing your references much less time consuming and it can create your bibliography in the Havard style within seconds. You can easily export references from library databases to RefWorks. RefWorks also includes a browser add-on tool that allows you to save web page references.
Getting Started with RefWorks